The world's first fluid family skateboards are launched today, marking the Olympic debut of skateboarding.
With skateboarding set to make its Olympic debut this Friday, Clown Skateboards is launching the world's first fluid family skateboards.
Clown's GUEST ART PROJECT next collaborator is British artist Adam Neate, an old friend of Clown and a self-taught artist. Her latest project is The Family, a three-plate series that celebrates gender fluidity in today's family structure and proclaims that love and support are more important than gender. The set includes two adult boards and one kids board, and only 35 exclusive sets available worldwide, each hand signed by Neate.
The most complex hand-printed series in Clown history, Family the set includes two adult boards and one child board. The beautifully crafted decks are highly collectable, with only 35 exclusive sets available worldwide, each hand signed by Neate. The boards are co-produced with the Far Skate Foundation and 30% of all sales will also be reinvested in Clown's CIC, which supports skate communities across the UK.
With skateboarding making its Olympic debut this week, a skate exhibition just opened at Somerset House and Juergen Teller announcing a new collection with skate label Palace, it's a big time for skateboarding.
Adam Neate's 'The Family' boards go on sale today Tuesday July 20, 2021 for £ 725 + VAT via the Guest art project gateway. The third artist partnership for the Guest Art Project will be revealed later in 2021.
Categories
Keywords
Author
Marc Westall
Mark Westall is the founder and editor-in-chief of FAD magazine Founder and co-editor of Art of Conversation and founder of the @worldoffad platform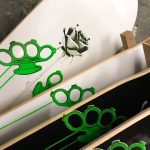 Kicking off the inaugural launch of the Clown Skateboard Guest Art Project is a seminal figure in the landscape of contemporary urban art. Esteemed Paris-based artist Ludo (Ludovic Vernhet)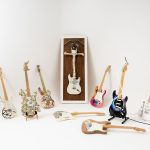 Goldie, Gavin Turk, Jamie Reid, Lauren Baker and Rugman are among 21 artists who have generously loaned their talent to create extraordinary works for the auction, which will be hosted by The Auction Collective on Wednesday, November 4.
CLOWN SKATEBOARDS was designed with a series of press tests in AOT 2000 with two board graphics and their iconic logo designed by Banksy.
It was to be a big artistic celebration where urban artists were reportedly invited to invade the walls of a London townhouse before the renovation. Then COVID-19 hit and disCONNECT turned into something even more exciting.
While the London-based artists were able to set up their works in situ – David Bray moved into one of the bedrooms which became one of the most poignant responses to the isolation – most of the international contributions had to be coordinated remotely.