The "wild" cyclocross is not for those "in sugar" (11 photos)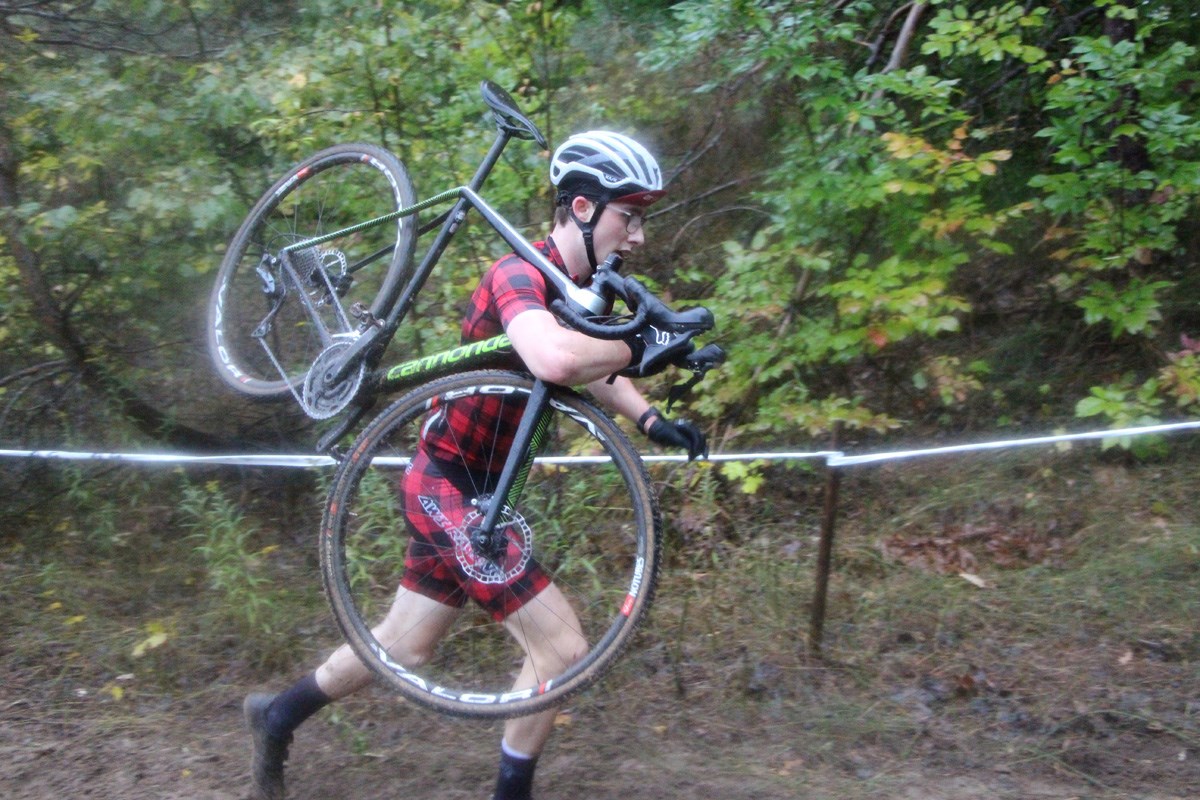 "I just want to be a part of it because it's so much fun. I love the camaraderie and it's such a good exercise, it's crazy, "said a newcomer to a unique sport
"Welcome to this glorious wet cyclocross night!"
That's how Gareth Houben, President and CEO of Hardwood Ski and Bike, greeted the riders at last week's Hardwood Cross Series event, which took place on a freezing and rainy Wednesday night. Houben was the official starter of the race, which drew dozens of runners despite the "glorious" weather.
"It's typical cyclocross weather – wet, wet, cold, sometimes snowy – that's what these riders live for," Houben explained.
It refers to those who participate in a form of competitive cycling called cyclocross, certainly not a fair weather sport. It combines riding and racing with a strong emphasis on skillful handling of the bike.
The routes are designed to require cyclists to get off their bikes in order to climb steep slopes or navigate tight bends. The Hardwood course is a mix of grass, sand, clay (often turning to mud) and dual track ski trails.
"It's huge in Europe," says Arienne Strong, program manager at Hardwood. "It's a great show sport because you can see the whole course," she added.
A typical cyclocross course is around three kilometers long, with marked trails that meander through open or park-like areas. Competitors complete two to four laps, depending on their category.
The Hardwood Cross Series, sponsored by Crank and Sprocket Bicycle Co. and Cannondale, is a seven-week race series – offered September 15 through October 27 – for cyclocross enthusiasts.
"Most of the participants are avid cyclists who try to extend their cycling season as long as possible. And that's a way to challenge yourself, "added Strong.
Although participation has been predominantly male, Strong says it is changing rapidly, with many families participating and more girls than ever before.
"Good for them," Strong said, "because it's not an easy course; they run on the same course as the older runners.
Three of these young runners were thrilled to be running in the rain during last week's race. Snuggled under an umbrella to get their bikes ready for the race, Amanda Samuelson, 15, with her sister Emily, 11, and neighbor Rebecca, 9, shared their enthusiasm for the sport before heading to the start line.
"We love it," Emily said. "It's fun and exciting and once you get there you don't get cold anymore."
Rebecca was the youngest competitor in Wednesday's race and it was her first time running in the rain. "Remember," Amanda and Emily's mother said as the girls walked to the start line, "if you fall and wipe, that's what's supposed to happen!"
It sounds like an extremely difficult form of cycling, but the sport has a crazy, fun vibe that adds to the fun and excitement. As a rule, the music rings, the cow bells ring and there is a lot of heckling, among the competitors and spectators.
And you might hear weird expressions, such as, "Some people are 'made of sugar', which is why they didn't show up for tonight's race. "
Among those who are not "made of sugar" is David McLean, an avid mountain biker who started cyclocross a few years ago.
"I'm not a serious runner," McLean said. "I just want to be a part of it because it's so much fun. I love the camaraderie and it's such a good exercise, it's crazy – it's raining, it's cold, sometimes it snows. Ultimately, I love to ride a bike – it defines my day. "
Like McLean, Strong says some riders come for fun and personal challenge, while others are members of cycling teams and can train for provincial and national titles.
For those who want to try the sport, Strong says they can sign up for one or more nights of the Cross Series, which runs Wednesday evenings through October 27. Although most competitive riders use specially designed cyclocross bikes, mountain bikes are also suitable for the course.
Competitive cyclocross athletes will compete in the upcoming O-cup event, which will take place in Hardwood on Sunday, October 3. This is the second race in the Ontario Cycling Association's cyclocross series. Racers go to different races throughout the season in hopes of becoming the O-cup champion.
For more information on the implication (unless you're made of sugar), visit hardwoodskiandbike.ca.