Round one: the Ibis Exie 2022 is made in the USA and ready to run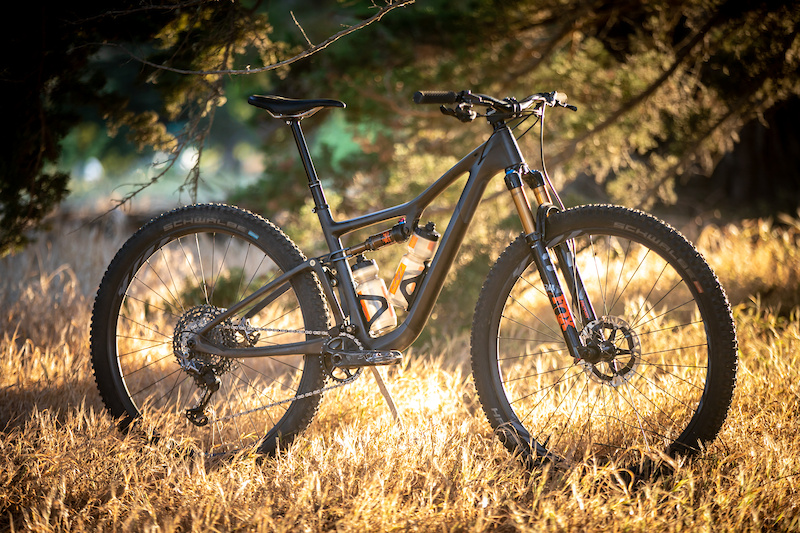 Ibis Cycles turns 40 this year – for as long as mountain biking has been around. I would apologize for any brand that might make such a claim to celebrate it with a six-figure 'We Were There Before You Born' video production, along with commemorative graphics and a glitzy follow-up marketing campaign.
I hate to be the spoiler, but the people at Ibis were too busy for this nonsense. To mark the occasion, Ibis worked in secret for three years: first, to develop a competitive double-suspension cross-country racing bike; and second, to build a factory near their headquarters in Santa Cruz, California, where they could manufacture and assemble it. Those are terrifically big checks to write for a small brand of bikes, but Ibis managed to cash both before their 40th birthday. Here is the exclusive story.

Meet Exie
Few industries are more crowded with clever marketing gimmicks than cycling. Add to that the global shortage of internet domain squatters and it seems inconceivable that the simplest name for a cross country mountain bike has escaped their nets. Exie, isn't it?
Exie is first and foremost a 29-inch wheeled cross-country machine, but the minimal profile of the naturally-finished carbon frame stops before the slimmest designs on the World Cup circuit, and it's not. A random. Ibis has moved towards design elements that are durable and away from cereal box weight razors like thin brackets like a pencil, snap-on bottom brackets, and pivotless suspension.
To their credit, a mid-size Exie weighs only a fraction of over 22 pounds (without water bottle and pedals) – an impressive number, further sweetened by the fact that it comes with a dropper and the seven-year guarantee on the Ibis frame.
Exie Details
• Wheel size: 29 in.
• Displacement: 100 mm at the rear / 120 mm at the front
• Carbon frame / dw-link suspension
• Proportional geometry between sizes
• 67.2 degree head angle
• Price range: $ 7,999 to $ 12,799
• Frame only: $ 4,499 (with Fox DPS2 shock)
• Colors: Natural carbon
• Sizes: small, medium large, very large
• Weight: 22.2 lbs / 11.1 kg complete, 4.4 lbs / 2 kg frame and shock (size medium, claimed)
• Ibis cycles
Ibis will not be sponsoring an XC World Cup team in the near future and they understand that most of the Exies will be privately owned, many of whom pay retail prices and have to train and race on the same bike. Its 100mm travel dw-Link rear suspension pivots on a combination of cartridge bearings and bushings that are backed by a lifetime replacement warranty. The use of a low lever ratio and a conventional 190 x 45mm length damper ensures suspension support for a wide range of rider weights, and the frames are available in four sizes, each with an angle. Adjusted seat tube and a front center to keep riders in their gentle climbing spots.
Characteristics and geometry
The cables and internal pipes of the Exie are routed through molded pipes while, depending on the size of the frame, you will have room for two water bottles inside the frame. Molded base padding keeps the Exie quiet and, paying homage to downcountry riders, Ibis has kept the Exie's seat tube low and the right boom in case its owner opts for a stem upgrade. telescopic saddle with maximum stroke. Oh yeah, and there's room for a 2.4 inch tire in the rear.
About the numbers: Ibis has chosen to wind up some of the rod length that traditional XC racers prefer and make up for that distance by lengthening the Exie's front center. Reach starts at 413mm for small frames and increases through four size options up to 513mm for the X-large model. With just 100mm of rear suspension travel, the Exie can get by with a cleverly low bottom bracket height of 339mm. The head tube angles are a relatively neutral 67.2 degrees, while all sizes share the same base length of 435mm.
Exie's effective seat tube angle goes against contemporary "Steeper is better" logic, but not by much. The reasoning of Ibis is to save energy, especially during long climbs. Today's vertical seat tube angles, combined with extended front centers, are best suited for steeper and more technical climbs. This combination helps maintain a more balanced position on the bike on extreme inclines and keeps the front wheel properly weighted. The tradeoff for this aggressive climbing stance, however, is twofold. First, it transfers a measurement of the rider's weight from the saddle to the handlebars, which can be tedious on flat sections and gentle climbs. Secondly, unless you're tall, that forward weight transfer tends to erode rear wheel traction when inclines aren't silly.
Exie geometry
Ibis has found in testing that a softer seat tube angle allows the saddle to counteract much of the power in the rider's legs, saving energy the rider would otherwise have spent needlessly on muscles. upper body. To balance the front and rear of the Exie, Ibis gradually increases the angle of the seat tube as the frame size increases. This way, shorter riders get the traction they need on the rear wheels, while taller riders, who usually suffer from too much weight transfer to the rear, are shifted forward. to keep their front wheels comfortably fixed to the ground. I spent two days driving the Exie on a variety of trails near Santa Cruz to test this theory.
When you can get one: Ibis will release the Exie this summer as a frame with a Fox Factory DPS Remote shock for $ 4,499 USD and in three trims, all suspended by Fox Factory DPS Remote shocks and 120mm Step-Cast forks: a 7-way version. $ 999 based on Shimano Deore XT components, a SRAM X01 version for $ 9,199 and an all-in-one version for $ 12,799 which includes SRAM XX1 AXS, Shimano XTR, Enve, Industry Nine and Cane Creek grades.
Why put so much effort into a niche market?
The creation of Exie was inevitable. Ibis has always had one foot in the lightweight game. Hans Heim, the man who revitalized Ibis, is a shameless cross-country geek. His daughter Lili was a powerhouse among the Northern California NICA high school running leagues, of which Ibis was a major supporter. (Some say the Ibis DV9 carbon hardtail was largely created for Lili and her fellow NICAs.)
It's also no secret that technical World Cup-level racing tracks have both rejuvenated interest in cross-country competition and challenged traditional ones.
bicycle designs. In response, Hans kicked off the Exie project with a short list of specifications: it had to be competitive at the highest level, at a reasonable price, able to handle technical terrains, and its frame (medium size with real shock) had to weigh less than 4.4 pounds (2 kg). Everything else was negotiable.
The end of an era: For decades, the evolution of World Cup XC racing bikes has been as follows: take a professional road frame, widen the rear seatstays, loosen the steerer tube a few degrees and lift it up enough to clear a racing fork. of 100 mm. Make him squeak by testing them and give him a weight limit – Boom! To add rear suspension, start with your hardtail, reduce the stroke to 100 millimeters or less, eliminate the swingarm pivots, overdrive any shock you can find, take it through the tests and give it a shot. weight limit – it's done!
This is great if your customer demographics focus on blue track KOMs and thinks six raisins, three poached anchovies, and a tablespoon of peas are dinner. However, as the Ibis focused on the geometry of the Exie, the new bike became a capable descender – to the point where staff pushed test mules far beyond the bike's original design envelope.
The durability of the Exie to survive in a much more aggressive environment involved increasing the resistance of the frame without exceeding Hans' maximum weight target. Solving this puzzle meant reshuffling three pounds of paper-thin unidirectional carbon fiber over nine feet of frame tube until they found the razor's edge between minimum weight and maximum resistance.