Horse-drawn carriage tour offers a haunted view of Paducah's history | New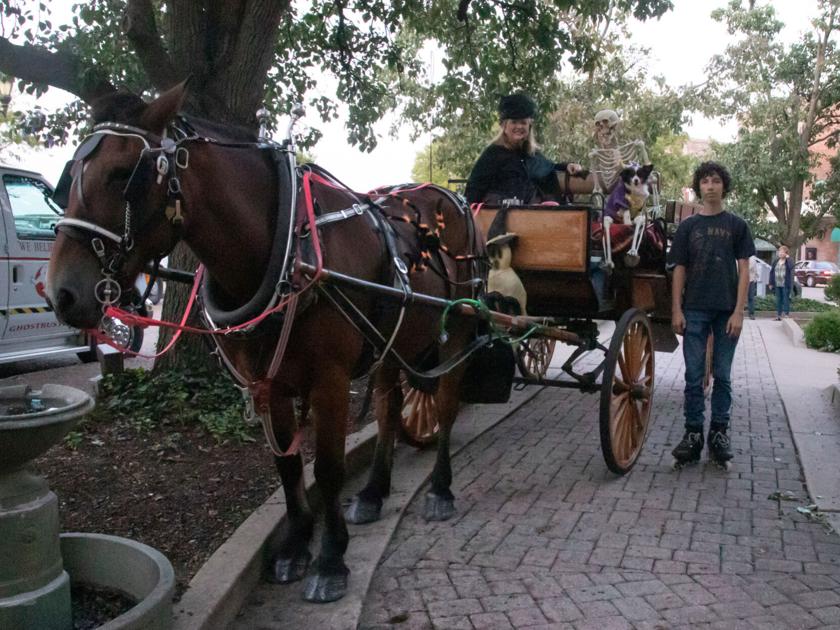 Lit by twilight light and occasionally by garlands and street lights, people spending a weekend night in downtown Paducah can hear the sound of horses' hooves moving on cobblestone and cobblestone roads. As the leaves change color and the temperatures cool, some may spot a woman in the car dressed in black Gothic clothing with a skeleton and a costumed puppy by her side.
If so, then you've come across Char Diesel's Haunted Paducah Tour. She serves as a guide to the spiritual side of town, sharing several ghostly stories of Paducah natives and visitors on her 1-hour horse-drawn carriage tour of downtown Paducah and the Lower Town area. Some of his subjects include a Confederate soldier, a former newspaper owner, children's spirits, and the local legend of the death mummy Speedy.
Throughout the tour, Diesel weaves Paducah's story together with the haunted stories she's collected over the years from those who told her they experienced those hauntings. Diesel, his skeleton co-pilot, and his dog, Tilly, sit in the front of the car as his dark bay horse, Smoky, pulls the group of tourists through town. As Diesel travels between seven stops on the tour, subtle and eerie organ music sets the tone for the passengers in the car.
Diesel said she saw signs of supernatural events. One of the stories she tells involves a curse that a man put on Paducah, which she says manifests in bats seen near the Carson Center.
"I've been on horse-drawn carriage rides here for nine years and I've seen these bats too, but only a handful of times. Never without rhyme or reason, but these bats appear above the Carson Center, "Diesel said.
Other events that Diesel described as she walked through town included burnt down houses, objects moving inexplicably, spirits spotted in windows, and the sounds of footsteps and screams in older buildings in town. .
Diesel started ghost tours nine years ago when she and her family moved to Paducah. She said the horse-drawn carriage company, John's PASS Carriage Service, started out as retirement work for her and her husband, JD, who also takes clients on unhaunted horse-drawn carriage rides through Paducah. On her tours, Char is accompanied by her grandson, Jakob, who goes rollerblading alongside the tour group.
To kick off this season's haunted tours, Diesel invited the Shawnee Valley Ghostbusters, a group of volunteers who dress like characters from the 1984 comedy, to descend on the corner of 2nd Street and Broadway. The group showed off their decorated van and gear, complete with proton packs and a movie-like containment unit. As the Shawnee Valley Ghostbusters go on a ghost hunt, the group's goal in town last Friday night was to make people smile.
Lindell Johnson, one of the Ghostbusters, said the group of volunteers were making free appearances, often for charity, adding that this was the first time the group had made an appearance in Paducah. He promised Diesel he would help with the first night of the carriage tours.
"We love that stuff," Johnson said.
The Haunted Carriage Tours will run in Paducah until the end of October. Diesel said it offers three to four haunted tours every Friday and Saturday night in October, and will offer daily tours for groups of eight to 10 people through the end of October.
Diesel said there are still places available for upcoming tours and recommends those interested to book in advance. More information about tours can be found on the John's PASS Carriage Service Facebook page and reservations can be made at 270-243-4365.