Andrew Lloyd Webber's Music Review – Blows Up Locking Spider Webs | Theater
ADrew Lloyd Webber is the first to admit that his music is anathema to certain audiences. If you don't like it, step out now, the songwriter jokingly declaims from a throne in a video appearance opening this celebratory concert. Otherwise, sit back and surrender your defenses to the music of the night, as songs from Joseph, Starlight Express, Phantom, and other hits come on tour without even a dreamcoat, pair of roller skates, or mask on. the rotation step.
Nikolai Foster's stripped-down yet inventive production is full of riches, performed by three former Evitas, two Phantoms and new graduate Shem Omari James. A seventh actor, Karen Mavundukure, has stepped down due to injury, prompting last-minute changes. The six actors begin by removing the tarps from the storage chests and perform a cappella excerpts of the songs under low, crisscross lighting that resembles an art installation. When the group erupts at the opening of Superstar, the rig goes up, the lights come on, and you'd be forgiven for thinking there's no better way to blow up the interlocking cobwebs and resurrect live theater.
Shot around Leicester, the composer's video links offer insights and anecdotes. We learn how seeing a disastrous Judy Garland concert inspired Evita, how Sunset Boulevard's With One Look began as an aria on The Little Mermaid, and how Cats is an exception to musical theater rule that a great story can carry a score. correct but not the vice. versa. As the show ends with a gleefully raucous Stick It to the Man from School of Rock, you think not only of Lloyd Webber's campaign for music education, but also of Joseph's origins in a 20-minute play for the school and the provocateur. the spirit and alien status that connects renegade Professor Dewey Finn to the main characters in so many of his other musicals. These include his new Cinderella, which is previewed here with the inclusion of the rocky and rebellious anthem Bad Cinderella.
Ria Jones reprizes her role as Norma Desmond of Sunset Boulevard, recently shot at Curve, and again elegantly renders the gestural precision of silent cinema. The fact that she's also singing a mind-blowing memory of cats means that Grizabella's faded dreams and her proposal for a fresh start are echoed when Jones sings Desmond's comeback fantasy. Desmond's illusion and isolation then reverberate through a selection of songs from Phantom and Love Never Dies, in which Tim Rogers and Tim Howar combine good physicality with powerful vocals. Jessica Daley looks great in Christine, the band plays like they're possessed and there's a dry ice blizzard.
Daley excels on the two and a half octave range of Unexpected Song and, replacing Mavundukure on I Don't Know How to Love Him, gives a soft and airy version, without dwelling on the torment of this song. But Matthew Spencer-Smith's group wrestles desperation from the Gethsemane that succeeds them and is especially good during the Sunset Boulevard Car Chase refit, with James inhabiting screenwriter Joe Gillis' jagged despair.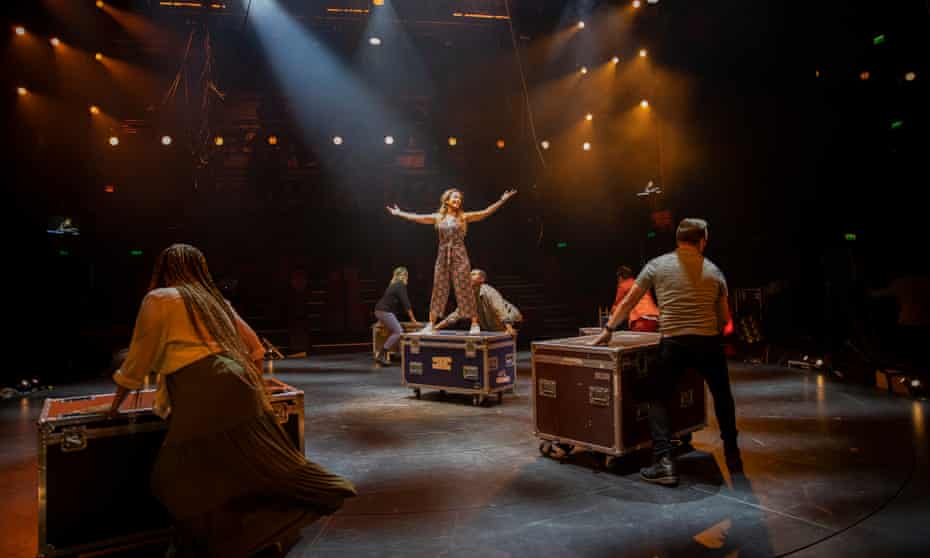 It is a joy, after all the broadcast and socially distanced musical theater concerts consisting mostly of solo performances, to see dramatic scenes created through songs with multiple voices. If Ben Cracknell's light show for the opening of the Cats gives a bit of the impression of being caught in the headlights, elsewhere its design adds an additional thrill, notably to Variation 23, performed by cellist Natalie Hancock. In Colin Richmond's scenography, the costume trunks form a podium for Madalena Alberto's fantastic Evita and a locomotive for the agile Skimbleshanks of Howar.
The inclusion of personal memorabilia from the international cast of hearing and performing the songs of the good Lord is carefully done and never gushes. The inclusion of local singer Alyshia Dhakk for a moving Pie Jesu and Curve Young Company for the finale make it a celebration of not only Lloyd Webber but Leicester as well.